Regain Balance
Reconnect with your truth and relieve stress and tension with Yoga Spirit Medicine.
Feel Safe
Be held and receive healing in a sacred space built for support and harmony.
Gather Together
Join a Sacred Community and connect with the healing presence of others.
Awaken The Sacred. Activate Your Vitality. Abound In Inner Wisdom.
A Shamanic Healing Circle integrates and weaves ancient practices for deep healing in the modern world.
You are a powerful spiritual being with great inner wisdom and a force that can heal called your Spirit Medicine.
When your personal alchemy - body, mind, and spirit - is in alignment, you become the ultimate healer. But, when things are out of whack, it's easy to forget you hold the answers and the power you need to heal yourself.
A Shamanic Healing Circle can tap into your spirit medicine and activate healing by weaving together ritual, ceremony, and moon magic. After sharing the sacred space created within the circle, you will feel awake, renewed, and at ease with yourself.
CHOOSE YOUR CIRCLE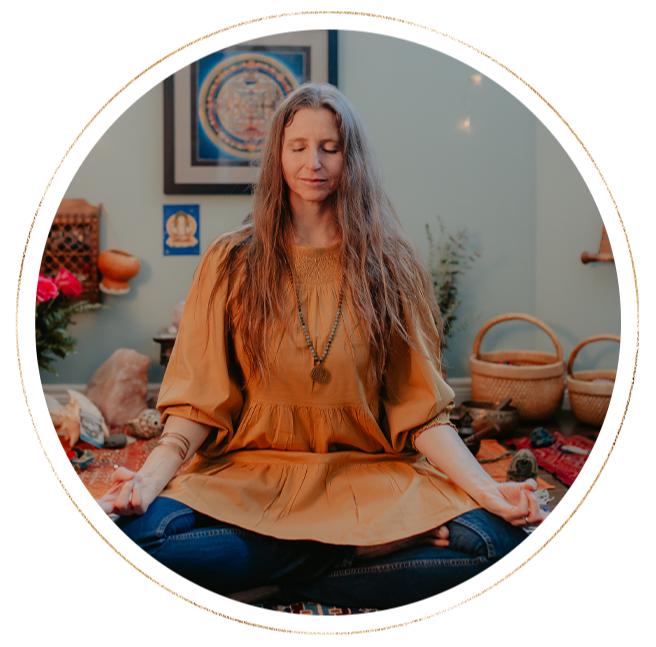 "The Shamanic Healing Circles opened my eyes and heart to a whole new world and energy, which has brought deep transformation in my life"

—Hannah Mc Namara, Founder of Yoga Yurt
Shamanic

Healing Circles Accompany You On Your Journey To Wholeness, Enabling You To Reclaim Yourself, So You Will Once Again Know Who You Are.
Align Your Personal Alchemy
Anchor Your Resilience
Absorb The Healing Energy Of Source
CHECK THE SCHEDULE
You Shouldn't Feel Alone In Your Spiritual Journey.
I know how difficult and lonely it can be when you are searching for answers without support or help from others.
For a long time, I was alone on my healing journey until I found the right community. Then everything changed for me.
I healed, grew spiritually, and connected with myself in new and profound ways.
As an energy healer and shamanic practitioner, I now guide others to do the same. Drawing together in the sacred space of a Shamanic Healing Circle is a beautiful thing.
It deeply connects, instills hope, and opens up new pathways of healing.


CHOOSE YOUR CIRCLE
Joining A Circle Is Easy, Choose Between A New or Full Moon
Shamanic

Healing Circle. The two-hour Shamanic Healing Circles include:
Shamanic Pachakuti Mesa Tradition Healing Altar
Opening circle
Moon magic teachings
Meditation & toning
Breathwork
Yoga Spirit Medicine Class
Guided Shamanic Healing Journey
Group shamanic energy cleaning and healing
Closing integration circle
Currently Shamanic Healing Circles are held in person, 7-9pm EST. Check upcoming events for details.
New Moon Shamanic Healing Circle
New Moon is a time for transformation.
A New Moon is a time where there is no moon. A time of new beginnings, when we can see our own patterns and become aware of the root cause of what we need to change. A time to 'plant' seeds in our inner garden to nurture until they blossom.
CHECK UPCOMING EVENTS
Full Moon Shamanic Healing Circle
Full Moon is a time of expression.
A Full Moon is a time of complete manifestation. The seeds you planted during the New Moon have now blossomed, allowing you to express yourself to the world. It's a time to shine your light and harvest the fruits of your self-care.
CHECK UPCOMING EVENTS
"I came to Naty's Circle feeling tense and out of sorts. I had no idea the profound effect it would have on my well-being. I left the circle completely changed. It allowed me to tap into something much deeper than I could ever do on my own. I am so grateful for the peace that came for days after. I really needed it."

—Lisa Pike
By joining a Shamanic Healing Circle you will:
Activate your healing and vitality
Feel integrated and at peace
Experience a sense of grounding and feeling held
Gain access to answers you didn't have before
Pause and take a deep look within yourself
Develop the strength for healthier boundaries
Awaken the Sacred in you and align with your personal alchemy
Your True Self Is Calling You.
Can You Hear It?
If you can, then there is a longing inside of you waiting to be filled. Take the time to listen by joining a Shamanic Healing Circle.
It will allow you to enter into a sacred place of healing, so you can recalibrate your soul and find peace.
CHOOSE YOUR CIRCLE
Hi, there! I'm Naty.
Creatrix of Yoga Spirit Medicine, Shamanic Healer, Ayurvedic Coach, Yoga, Breath-work and Meditation Teacher, Pachakuti Mesa Tradition of Shamanism Sanctioned Teacher and Author of Your Mighty Inner Healer.
Stay In Touch.
Join our email list and receive the free step-by-step guide "Clarify Your Origin Story", along with weekly tips to help you transform your healing journey.